Flawless skin. Confident body
Why it's good for you

Say Good-bye skin redness, pimples, eczema, blackheads and breakout skin. And Hello gorgeous!

Highly effective to clear and refine troubled skin
Natural exfoliants rid skin of dead cells
Laboratory formulated blend of clays and oils purge your pores
Tested to calm, nurture and soothe inflamed skin
Conditions and improves skin barrier for healthy skin
99.7% naturally derived ingredients
Hypoallergenic and suitable for sensitive skin
Clinically proven and dermatologist approved
Clinically tested

An independent, third-party consumer study with 33 healthy men and women with a range of skin types were invited to use the Outback Mud Mask 2 to 3 times per week over a 30-day period.

100% noticed fewer blackheads on their skin
100% reported their skin being visibly plumper, feeling well-hydrated and moisturised for longer.
100% noticed an overall improvement in skin tone and texture.
100% noticed skin texture felt resurfaced and more refined.
100% noticed skin felt firmer and more lifted.
100% noticed skin felt clean, clarified, calmed and soothed
97% experienced a reduction in the appearance of fine
lines.
93% noted a visible reduction in pore size.

100% would recommend the Outback Mud Mask to family and friends.
Ingredients

Our mask is made from 99.7% naturally derived ingredients! It doesn't get better than this. No nasties, no harmful ingredients. Simply nature doing her job...

Full Ingredients List:

Aqua (Water), Kaolin, Glycerin, Carthamus Tinctorius (Safflower) Seed Oil, Bentonite, Cetearyl Olivate, Helianthus Annuus (Sunflower) Seed Oil, Prunus Amygdalus Dulcis (Sweet Almond) Oil, Sorbitan Olivate, Jojoba Esters, Aloe Barbadensis Leaf Juice Powder, Hydrolyzed Jojoba Esters, Anigozanthos Flavidus (Kangaroo Paw) Flower Extract, Terminalia Ferdinandiana (Kakadu Plum) Fruit Extract, Macadamia Integrifolia Seed Oil, Fusanus Spicatus Wood Oil (Sandalwood Oil), Melaleuca Alternifolia (Tea Tree) Leaf Oil, Quartz, Tocopherol, Xanthan Gum, Glycine Soja (Soybean) Oil, Glyceryl Caprylate, Sodium Stearoyl Glutamate, Dehydroacetic Acid, Sodium Phytate, Potassium Sorbate, Benzyl Alcohol, Citric Acid, Sodium Benzoate, Alcohol, Ci 77491 (Iron Oxide), Ci 77499 (Iron Oxide), Farnesol, Limonene. Total Natural Origin Content: 99.69%.
Shipping Policy

General:

Same day shipping if we receive your order by 12pm AEST on a business day.
Your pamper packed is shipped from our warehouse in Brisbane, Australia.
You will receive an email with tracking number once your package leaves our warehouse.
Due to COVID-19, there may be shipping delays with your order. This is out of our control. Please check your tracking number for updates.

Shipping in Australia:

Single Pack: $6.95
BFF Twin Pack: Free!
Express shipping available at checkout.

International Shipping:

You may be responsible for additional local taxes, duties or customs charges. Please confirm with your local customs office if you are unsure.
NZ: Single Pack: NZD $10. BFF Twin Pack: Free!
Canada: Single Pack: CAD $15. BFF Twin Pack: Free!
USA: Single Pack: USD $10. BFF Twin Pack: Free!
UK and Europe: Single Pack: AUD $20. BFF Twin Pack: Free!
Rest of the World: A flat rate of AUD $25.
View full details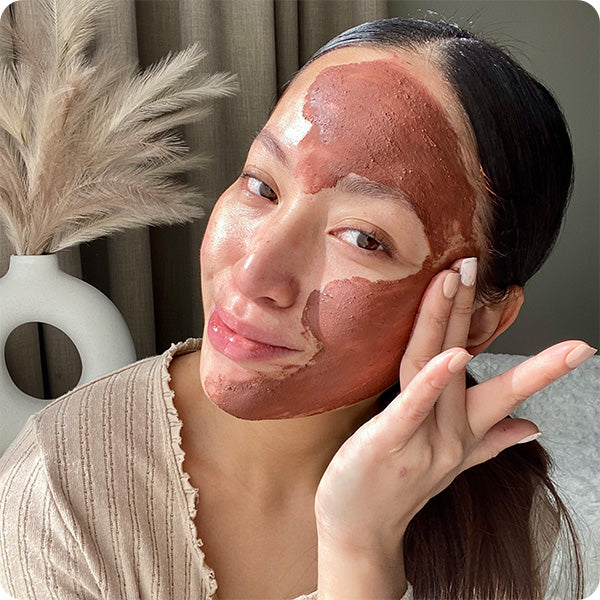 "Reducing My Inflammation"
I have acne-prone, sensitive skin. which affects my self-confidence. I tried this mask out of desperation, but didn't hope for much. I was blown away. My skin immediately felt softer and calmer. After a week, my skin looked the best it ever had.
Wholesome Natural Ingredients Straight From the Australian Outback
This fresh, uniquely Aussie take on a classic product is packed with natural powerhouse ingredients that pay tribute to our great land and people. Meet the star ingredients of this nourishing clay concoction…
Kakadu Plum Extract

These nutritious plums have the highest concentration of Vitamin C of any fruit on the planet, which may…

Keep the skin plump by promoting collagen production
Prevent the skin from being damaged by harmful
free radicals
Brighten your skin tone
Soothe inflammation

Kangaroo Paw Extract

Traditionally used by Indigenous Australians for its healing properties, this nutrient-rich plant is full of essential fatty acids, including an omega-6 fatty acid called linoleic acid, which is known to:

Strengthen the natural skin barrier
Lock in moisture

Macadamia Oil

This ancient tree produces nuts that are rich in good fats and Vitamin E, which is easy for your skin to absorb without looking or feeling greasy. The fatty acids:

Help combat dry skin
Lock in moisture
Nourish the skin barrier

Australian Sandalwood Essential Oil

This essential oil is the natural source of the warm, woody, and slightly spicy scent of the Outback Mud Mask and also:

Calms the mind and relieves anxiety
Reduces the appearance of skin blemishes
Promotes a smooth complexion

Tea Tree Essential Oil

Another traditional medicinal ingredient, this oil is known for its anti-inflammatory properties which:

Soothe irritated skin
Reduce redness and swelling
Plus, the Outback Mud Mask Benefits From These Other Incredible Natural Ingredients…
Aloe Vera Leaf Juice

This healing plant is chock full of Vitamins A, B1, B2, B3, B6, B12, C, and E, plus anti-inflammatory agent B-sitosterol and more!

Safflower Oil

This helps draw out impurities, decongest pores, and break up blackheads while hydrating the skin.

Sweet Almond Oil

This epic oil gently penetrates the skin to cleanse pores and soothe dry, chapped skin.

Kaolin & Bentonite Clay

A smooth blend of clays helps purge the pores of built up impurities like dirt and bacteria, absorbs excess oil, and leaves your skin soft & smooth.

Hydrolyzed Jojoba Esters

Sustainably derived from a resilient desert plant, these esters help improve the skin barrier function and improve elasticity and firmness.

Jojoba Esters (Beads)

These tiny, hard, and biodegradable microspheres help exfoliate the outer layer of the skin, ridding it of dead cells and promoting circulation.
Full Ingredients
AQUA (WATER), KAOLIN, GLYCERIN, CARTHAMUS TINCTORIUS (SAFFLOWER) SEED OIL, BENTONITE, CETEARYL OLIVATE, HELIANTHUS ANNUUS (SUNFLOWER) SEED OIL, PRUNUS AMYGDALUS DULCIS (SWEET ALMOND) OIL, SORBITAN OLIVATE, JOJOBA ESTERS, ALOE BARBADENSIS LEAF JUICE POWDER, HYDROLYZED JOJOBA ESTERS, ANIGOZANTHOS FLAVIDUS (KANGAROO PAW) FLOWER EXTRACT, TERMINALIA FERDINANDIANA (KAKADU PLUM) FRUIT EXTRACT, MACADAMIA INTEGRIFOLIA SEED OIL, FUSANUS SPICATUS WOOD OIL (SANDALWOOD OIL), MELALEUCA ALTERNIFOLIA (TEA TREE) LEAF OIL, QUARTZ, TOCOPHEROL, XANTHAN GUM, GLYCINE SOJA (SOYBEAN) OIL, GLYCERYL CAPRYLATE, SODIUM STEAROYL GLUTAMATE, DEHYDROACETIC ACID, SODIUM PHYTATE, POTASSIUM SORBATE, BENZYL ALCOHOL, CITRIC ACID, SODIUM BENZOATE, ALCOHOL, CI 77491 (IRON OXIDE), CI 77499 (IRON OXIDE), FARNESOL, LIMONENE. TOTAL NATURAL ORIGIN CONTENT: 99.69%.]
If You've Got Skin That Needs Some Lovin', Plendi Has Just the Thing for You!
The Outback Mud Mask is the perfect companion for anyone who wants an easy, enjoyable, and effective way to
restore the bounce and brightness to dull, dry skin in one convenient package.

The Outback Mud Mask is nothing but goodness…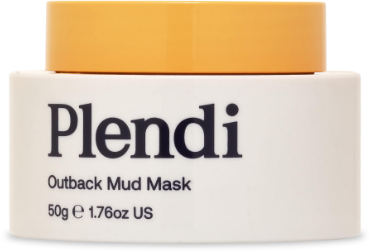 Good for Your Body

This gentle, clinically-tested and hypoallergenic mask is packed with a powerhouse of naturally-derived ingredients suitable for sensitive skin and need not be limited to your face! Apply it to your legs, butt, back, or arms to restore the firmness and smoothness of your skin.

Good for the Planet

This mud mask pays tribute to the great land and people of the Australian Outback by using authentic local ingredients and supporting Aussie businesses. Our packaging is 100% recyclable and we say NO to single-use plastics.

Good for your Routine

Life is for living, not spending hours a week in front of the mirror! That's why this all-in-one mask exfoliates, decongests, hydrates, and brightens. Leave it on for 1 minute daily, or treat yourself to 3 10-minute sessions per week to notice visible improvements.
See What Our Fans Have to Say...
Porscha S.

Verified Buyer

Skin concern

Breakouts & acne

Skin results

Refreshed & purified,

Clean & clarified,

Reduced skin redness

HONEST REVIEW

The Outback Mud Mask was super easy and fun to apply. It felt much more natural than most masks I've used and left my skin feeling clean, refreshed & silky smooth afterwards. I found it also reduced the redness around my blemishes, and sped up clearing them off my face. Didn't notice any difference initially however after the 3rd/4th time I noticed! Definitely my favourite mask!

Skin concern

Dullness,

Dryness,

Fine lines,

Enlarged pores

Skin results

Hydrated & moisturised for longer,

Refreshed & purified,

Improved skin tone,

Clean & clarified,

Conditioned

Plump Plump

Love it. I can't wait to use after receiving it. It is soft and makes the skin hydrated. The skin tone improved. Easy to rinse off. Highly recommended.

Seron C.

Verified Reviewer

Skin concern

Breakouts & acne,

Dryness,

Eczema or Psoriasis

Skin results

Refreshed & purified,

Reduced skin redness,

Hydrated & moisturised for longer

Love it

I love the point of difference with the Plendi Outback Mud Mask. I was excited to try it because there is such a focus on including very Australian ingredients and it must be why it smells so great. My skin definitely felt refreshed and looked bright after use and I have started to make using it a weekly ritual. I'll be restocking after this one runs out!

Skin concern

Breakouts & acne,

Dullness

Skin results

Hydrated & moisturised for longer,

Clean & clarified,

Refreshed & purified

Great mud mask for all people and all skin types!

My partner and I loved using the Plendi Outback mask and found it left both our skin super soft and moisturised. Was fun getting to do a bit of pampering together and would definitely recommend this mud mask.
Reviews Loaded
Reviews Added
Frequently Asked Questions
Is this mud mask safe for sensitive skin?

Heck yes! This wonderful concoction has been rigorously tested in an independent trial and is:

Dermatologist Approved
Suitable for sensitive skin
Hypoallergenic
Kind to skin
Is the mud mask safe for use during pregnancy?

Our mask is dermatologist approved, suitable for sensitive skin, hypoallergenic, 99.7% naturally derived.

Despite the above, and although we do believe the mud mask may not be harmful for use during pregnancies, we have not conducted formal clinical testing to support the claim.

If you are pregnant and want to use the Outback Mud Mask, we recommend you review the ingredients with care, and if in any doubt, to consult your doctor for guidance.
Is the Outback Mud Mask only for your face?

Not at all! In fact, we encourage you to useit anywhere on your body that has dry skin,acne, or irritation...or anywhere that needs some extra attention!
Where is the Outback Mud Mask manufactured?

Our mud mask is proudly owned, manufactured and packaged in Australia, including amazing authentic Australian ingredients.

From Australia with 💛
My skin tingles and/or is red after masking. Is this normal?

Some people using a clay-based face mask may experience (and even enjoy) a slight tingle during use, or a bit of skin redness after use. No need to worry! This is mostly in response to the detoxification/cleansing process and subsequent increased blood circulation. The tingle and/or redness should subside within 15-30 minutes.

Want to know more, or how to prevent the redness? Read our blog post here.